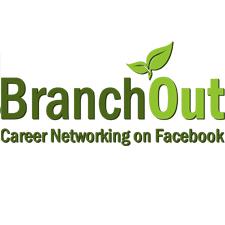 Whether you are a jobseeker or an employer it is essential to get out there and expand your professional profile in any way you can. The famous LinkedIn is well known to do just that but now BranchOut has launched on Facebook. Has it dominated LinkedIn?

What is BranchOut?
BranchOut is a brand new Facebook application to help users expand their professional networks, helping them find jobs, sales leads, and new hires. It was founded in July 2010 by Rick Marini. The big and perhaps different idea about BranchOut is you are only one or two steps away from somebody that has your dream job. BranchOut's CEO Rick Marini created this application with the belief that it's not what you know it's who you know. It offers a lot of the same functionalities of LinkedIn but with the added bonus that it's integrated with your Facebook profile. This is a huge bonus as let's face it who doesn't have a Facebook profile, therefore opening you up to hundreds of more connections.
Signing up to BranchOut is very easy. You simply log in to your Facebook page and allow the application to access your profile. From here you are free to do whatever you like. It is also possible to import your LinkedIn information to your BranchOut profile. BranchOut only shows professional information. Status updates or pictures from your normal Facebook profile are not viewable.
Statistics
Since January BranchOut has grown from 1 million monthly active users to 5.5 million. There are currently 300 million profiles on BranchOut as opposed to 135 million from their rival LinkedIn (which had a 9 year jump start). When a user joins BranchOut, that user brings all of his or her friends' publicly available information to BranchOut–thus the large 300 million profile number. The professional networks massive growth is attracting huge enterprises like Microsoft and Target for the premium recruitment service they offer. In only 2 years, BranchOut has advertised over 3 million jobs and 20,000 internships, making the dream job of its users achievable.
BranchOut versus LinkedIn
Although very similar BranchOut and LinkedIn have a few differences. LinkedIn is known for targeting graduates with a great resume and a huge network of professional contacts to dulge into. BranchOut on the other hand targets those who may not have gone to University and therefore have very few professional contacts. BranchOut converts your existing social circle into your professional network. With each friend you add on BranchOut, you get access to names and employers of their friends even if they are not on BranchOut. This means there is a total of 300 million profiles on BranchOut with more than 800 million facebook users still to sign up.
BranchOut Advantages
The figures speak for themselves on how successful BranchOut has been. The huge advantage it has on LinkedIn is mainly the referral system it uses. We all know it is far easier to get a job through someone you know.
Another big advantage BranchOut has over LinkedIn is turning 500 personal contacts into 50,000 professional connections very quickly as opposed to searching for connections with LinkedIn (which can be quite time consuming).
Also BranchOut offer incentives, known as the badge reward system. When you reach a certain amount of connections you are awarded Bronze, Silver and then Gold badges. This may give some users motivation to increase their connections.
BranchOut Disadvantages
Although BranchOut has been incredibly successful there are some disadvantages. Firstly when you access the application it asks you to allow access to all your Facebook information, this makes people wary and could turn away potential users.
Also most people want to keep business and personal aspects of their lives separate. Most people have both a LinkedIn profile and a Facebook profile, and may prefer to keep both business and personal aspects separate therefore discouraging people to set up a BranchOut account.
BranchOut has hit the professional networking market with a bang with thanks to Facebook and its huge growing platform, add to the fact that people spend more time on facebook than any other social media network, it makes sense for some people to use BranchOut rather than LinkedIn. A younger, not as professional audience will use BranchOut and a very professional slightly older demograph will use LinkedIn. With that said both professional networks attract different audiences and therefore there is room in the professional networking market for both sites.