In my last Blog post I explained On-Page Optimisation and what needs to be done on your website for it to be fully optimised. So now I will talk more about Off-Page Optimisation, which as I said accounts for 70% of your Search Engine Optimisation. So if you want to appear on the first page on Google and higher than your competitors follow some of the guidelines below.
Assuming that you have done your On-Page Optimisation and your website is of good standards, it's time to seriously focus on Off-Page Optimisation. This process is about building backlinks, meaning incoming links (your website's URL) from other websites to your site. Which is like a popularity contest, the website with the most and the best incoming links appears higher on search engine result pages. If that confuses you, below is a picture to help you visualise what are backlinks. And as you see they are URL links from various sites leading back to your website.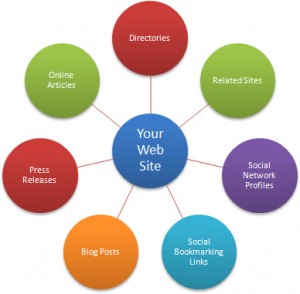 So the way to win this "popularity contest" is by building links. Below I listed a few things that you can do to start appearing higher on the search engine result pages. But before you start make sure that you have done you keyword research and picked the few keywords that you want to start optimising for, if you haven't go read "How to do Proper Keyword Research".
1. Online Directories
There are many directories online, so start submitting your business details on them. I would recommend starting submitting them to local directories, unless you're trading globally. Some are paid but there are plenty of free directories out there, so don't be rushing to pay. Make sure you put your website URL and if allowed add anchor text to your directory listings. Directory submissions are not only good for link building, but they also increase your visibility online, when people are searching for your products or services, you have higher chances of being found.  At the end of the article I will put a list of a few Irish directories that should give you a kick-start.
2. Article Marketing
I've talked about Article Marketing before, so I won't go into detail now. Basically it's writing a peace of content and distributing it to article directories, which give you backlinks to your website. To read more about article marketing click >>>> "Article Marketing- An Affordable Marketing Channel "
3. Social Media
Having links come from such sites as Facebook, Twitter and other social media sites is very good. So if you don't have profiles on such sites, make sure you create your business pages there and add your link. And of course if you have new and interesting content on your site, you can always share that with people on social sites, which will help in increasing traffic to your page and is good for link building.
4. Blogs
Bloging is a part of article marketing. Of course if you write articles, not only will you submit them to article directories but also to your Blog- if you have one. Again, Blogs don't have to cost you; you can create a free Blog on www.blogger.com or on www.wordpress.com and they are quite simple and easy to use. If you do that, make sure you add links to your posts, especially anchor text your keywords.
Another thing to do is visit other Blogs (especially Blogs that are similar to what you do. For example if you're a painter, then visit Blogs that have content about painting and decorating), and post feedback, comments on what they wrote, and of course add your link.
5. Video Marketing
Video marketing is like article marketing, but instead of submitting to article directories, you submit your made videos to sites like Youtube and other video sharing sites. Video marketing is becoming more popular and it gives a bigger boost to your search engine optimisation results. It doesn't have to be a professional video, you can create a slideshow type of a video and upload it to the many video-sharing sites. When uploading your video, you would have the chance to add your website's URL in the description box. These links are considered very strong and it highly boosts your search engine rankings.
By following these guidelines you should start appearing higher on search engine result pages.
Local Directories:
http://www.citylocal.ie/
http://www.irelandlocal.com/
http://www.irelandlocal.ie/
http://www.yourlocal.ie/
http://www.yalwa.ie/
http://www.thebestof.ie/national/ireland
http://www.qype.ie/
http://www.yelp.ie/
http://www.hotfrog.ie/
http://www.youtrade.ie/
http://supplier.ie/
http://www.businesslinks.ie/
http://www.mytown.ie/