Google have recently incorporated Conversion Tracking for Ad Extensions in Google Adwords. Ad Extensions have been significant for many advertisers in terms of generating more traffic and clicks on their PPC campaigns but until now it was not possible to identify whether or not these clicks were converting. It is now possible to track conversions for clicks on Site links but also for "Get Directions" Links for Location Extensions & click-to-call ads on mobile.
Reporting Conversions
In order to report conversions for Ad Extensions you will need to do the following;
Within Ad Words, click on the Ad Extensions tab and select the extension type (Site link, Location, Call, etc.).  Once you have selected the ad extension type, it is important to ensure that you have the conversions columns set up accordingly. In order to do this, simply click on the Columns button and select the conversion parameters as shown here: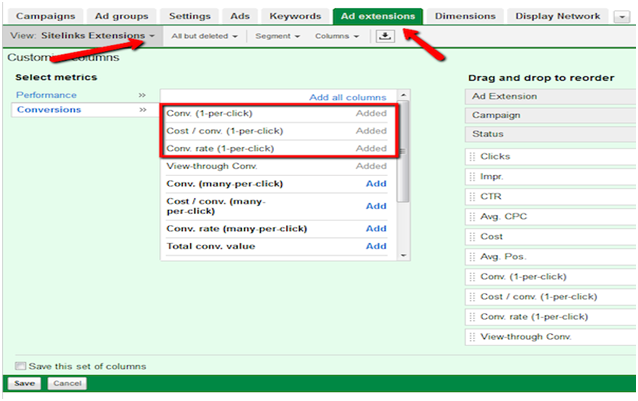 Segmenting Conversion Data
However it is important to segment the data because although conversions associated with Ad Extension clicks is a major improvement; it does not showcase the full picture. It is also important to drill down into the data and to identify aspects such as;
Google Search Vs Search Partners
Time of day
Day of the week
Actual Ad Extension Vs Normal Text ad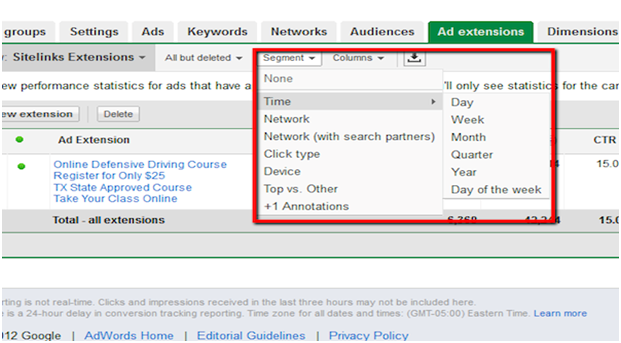 Remember top level data for extensions, tells you how many impressions, clicks & conversions were generated when an Ad Extension was shown in conjunction with your normal text ad but it does not tell you how they performed in comparison to your regular text ad. That is why it is important to segment data using this feature identify exactly how each extension performed separate from your regular text ad.
The Segment drop down menu provides many opportunities for analyzing Ad Extension Conversion Tracking Data: Use the Click Type segmentation to differentiate between your normal text ads (Headline) versus Sitelink. An example of this can be seen below.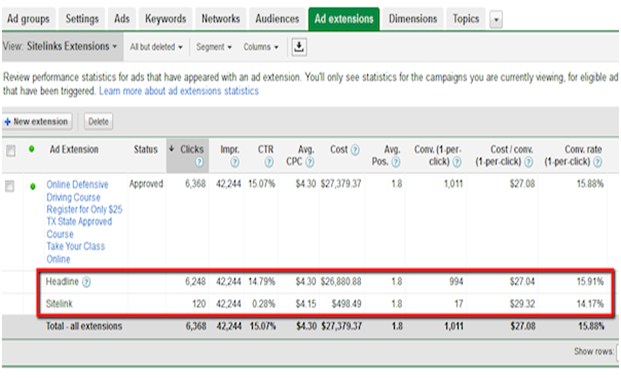 The only drawback at the moment for this feature is not being able to see data per actual individual Site links. All of the data associated with Site links are aggregated and currently it is not possible to test which Sitelink messages are resonating with searchers in terms of click-through rate or conversion. That aside, this new feature is extremely beneficial and has a lot of value for Pay Per Click Advertising.