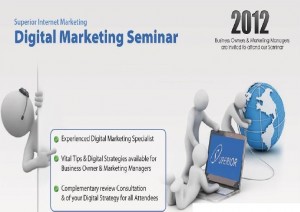 Superior Internet Marketing is a Digital Marketing company based in Dublin. Founded by Billy Mahon as a result of having identified a need in the Irish market for a specialist digital marketing agency. We focus on helping businesses to better utilise their websites as an effective marketing tool, to generate more leads and sales and to greatly enhance their online presence.
Our Seminars
Superior Internet Marketing also hold monthly seminars that are free to business owners. The seminars touch on a variety of digital marketing topics such as SEO Marketing, Social Media Marketing, Adwords Marketing, Introduction to Digital Marketing and Digital Marketing Trends. We here at Superior Internet Marketing believe that education and training is very important in this ever changing digital marketing environment.
Every seminar includes a presentation from our very own Billy Mahon (Digital Marketing Expert). We also have a guest speaker at every seminar. In the past we have had Peter Bennett from eBay, Anthony Quigley from The Digital Marketing Institute, Robert Hedigan – Adwords Specialist from Superior Internet Marketing.
Our morning and evening seminars usually kick off from 8.30am and 5.30pm respectively with a networking and refreshments session, The seminar then starts a half hour later and begins with our guest speaker's presentation, followed by Q&A's. Billy Mahon from Superior Internet Marketing will then give his talk, followed by Q&A's. We then conclude with a raffle to shake things up a little. It has been a great success a very enjoyable and informative evening. At the end of the seminar we offer attendees an exclusive free consultation usually worth €275. It's an event not to be missed!!
Our next seminar is a breakfast conference and is due to take place on May 15th @ 8.30am. This seminar will cover Social Media Marketing with Guest Speaker Anthony Quigley from the Digital Marketing Institute. There will be a 10% discount given to all attendees for courses at the Digital Marketing Institute. Seating is limited so be sure to Register Now http://www.superiorinternetmarketing.com/learn/seminar/
Dates to keep in your diary:
May 15th – Social Media Marketing
June 12th – Adwords Marketing
June 26th – Introduction to Digital Marketing
July 31st – Digital Marketing Trends