Driving traffic to a website is important. However, driving traffic does not guarantee conversions. Also it is important to understand how users are engaging with your site, your content & which content performs best. Your website may be generating thousands of visits a day but if these users are not engaging with the content or are not converting then what is the point.
For many companies and businesses, a critical aspect of their strategy is to be able to identify which content performs best & what users seem to be engaging with more.  Many companies look to split test pages of content to see which page or piece of content performs best. Google Website Optimizer is a free tool from Google which allows webmasters & marketers to do just this.
What Is Google Website Optimizer?
A good way to describe Google Website Optimizer is as follows; "Website Optimizer is a free website optimisation tool that helps online marketers and webmasters increase visitor conversion rates and overall visitor satisfaction by continually testing different combinations of website content". The tool allows you to increase the value of your existing websites and traffic without spending a cent. Using the tool to test and optimise your sites content, layout & design, you can quickly begin to increase revenue, ROI and enhance Conversion Optimisation.
Why Use Google Website Optimizer?

Google Website Optimizer allows you to stop guess work & enables you identify which content and designs best convert your visitors. It enables you to choose the pages and content to test using its web-based interface. You select & provide the content (headlines, images, and text and design alternatives) that you'd like to test. Then test these changes with your visitors & Website Optimizer will then show these content and design alternatives to your site visitors, all the while monitoring which combinations lead to the highest conversion rates. It will enable you to learn what changes drive the most conversion & the tools intuitive reports allow you to quickly and easily identify and implement the best combination/s.
Benefits of Website Optimisation Tool
1.    Increase sales
2.    Increase conversion rates.
3.    Improve & Enhance landing pages.
4.    Generate more leads
5.    Decrease Cost Per Acquisition (CPA)
6.    Increase user time spent on site
7.    Eliminate guesswork from site design
Features of Website Optimisation Tool
•    Free Tool
•    Multiple & Optional Testing Methods
•    A/B Split Testing & Multivariate Testing
•    Adwords Integration
•    Interactive Interface, Charts & Graphs
•    Actionable Data & Information
•    Intuitive Reporting
Google Website Optimizer can test any element that exists as HTML code on a page including calls to action, fonts, headlines, point of action assurances, product copy, product images, product reviews, and forms.
How To Use Website Optimizer
Google Website Optimizer allows webmasters to test entire pages, known as A/B testing or page elements, known as Multivariate testing such as Headings, images or body copy. This tool is part of Google Analytics, though accessed through a different user interface. As it is part of Google Analytics, it uses the Google analytics scripts.You set up experiments for various elements on your pages and then Google randomly serves the different versions of your pages to real visitors who come to your website. There are huge advantages to this method of testing over other sites that test your pages with people who may or may not fall into your target market. With Google Website Optimizer, you know that the people who are participating in these tests are your target market (or at least your target visitor).
Set –Up & Testing
In order to utilise the tool you are required to generate a Google Account. Simply create an account & sign in at www.google.com/websiteoptimizer. Once signed in you will be given the option to generate experiments, which consist of either A/B Testing or Multivariate Testing.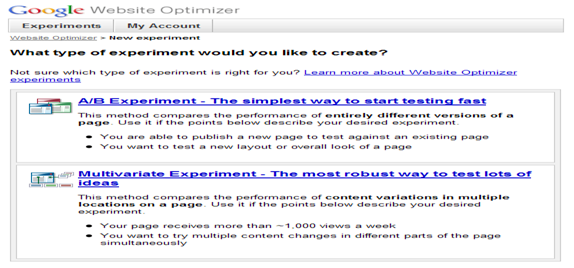 A/B Testing vs. Multivariate Testing
Website Optimizer allows webmasters & marketers to utilise both A/B testing and multivariate testing.
•    A/B Testing – Allows you to Compare different versions of a page, compare existing pages against new pages & test new layouts, designs & overall web page design
•    Multivariate Testing – Allows you to compare content variations in multiple locations on a page & measure different content changes in different parts of a webpage
Test Options:
There are a lot of possible things you can test, here are just a few options;
1.    Logo size & position
2.    Headline position, colour & size
3.    Page Colour Scheme, Layout & Design
4.    Headlines & Call to actions
5.    Body copy & Font Type/Size
6.    Images
These testing methods have technical guides for setting up each kind of test, and either you'll need some basic knowledge of HTML or you'll have to get help from someone who does. You can find the A/B testing technical details here, and the multivariate ones here.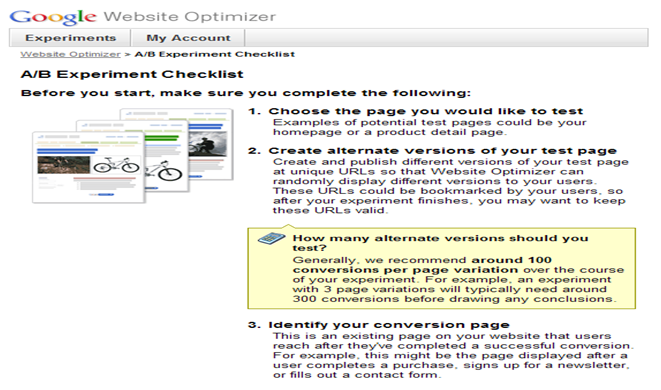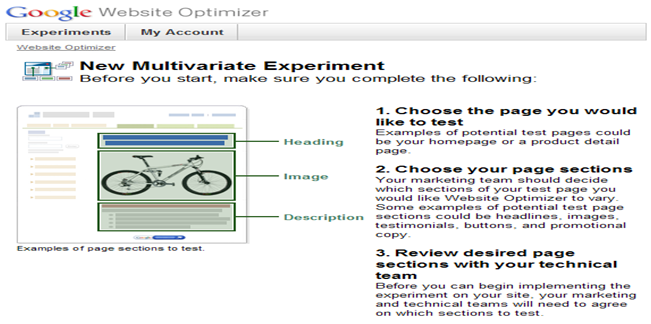 Example of setting up a A/B Experiment;
Click "A/B Experiment
Fill out all the fields on "A/B Experiment Set-Up: Name your experiment and identify pages." This should just be a matter of entering your experiment name and copying and pasting your three URLs. Then, click "Continue."
Enter the URLs you want to test.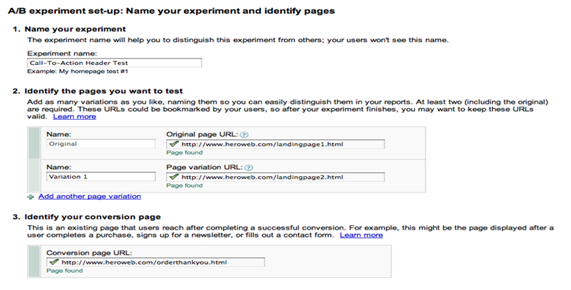 Now it is time to install and validate the JavaScript tags. Assuming you will do this on your own, click the appropriate radio button and then click "Continue."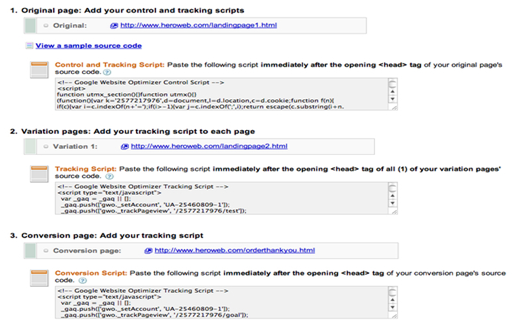 Installing Tracking Code
Install and validate JavaScript tags" you will see your three snippets of JavaScript code for your control, variation, and conversion pages.
Copy each snippet of code into the correct page on your site.
Once our code is in place, click "Validate Pages." Troubleshooting validation issues can be a challenge. If you have a template-based ecommerce platform, you might need to confer with your platform support team. Otherwise, assuming your validation is successful, you are ready to test.
Click "Start Experiment."
Analyzing & Measuring Results
Data will build up overtime & in the first few days, you should Google Website Optimizer to see page views and conversions you are recording. Overtime, as Google Website Optimizer records data it will help you determine the winner of your test.

So if you're a webmaster or marketer looking to enhance Website Design, test new content, establish which is the best layout & design for your site, what generates greater audience engagement and in turn generates more conversions, then Website Optimizer is a tool of significant benefits.