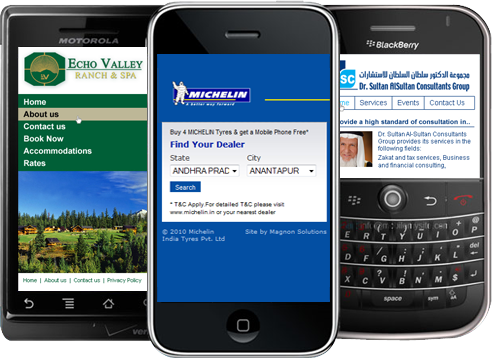 In today's climate mobile devices are redefining the way people are making use of the internet. According to Cisco nearly 10% of all traffic comes from a smart phone like an iPhone or blackberry or a tablet like an ipad.  This trend and increase in mobile traffic is going to continue to grow at an incredible rate over the next 2-3 years. Many observers predict that mobile search will in-fact outperform desktop search in the very near future.
So what does this mean for your business and your online marketing strategy? Many business in Ireland today have yet to realise the full potential benefits of having a strong online mobile presence. A lot of businesses in Ireland are still either contemplating forging a mobile strategy or they are just taking their very first steps to establishing a mobile presence.
Why Develop a Mobile Website?
Today's smart-phones utilize powerful web browser technology that can be used to display and browse websites through touch screen technology. However the main drawback for businesses which have not yet developed a mobile version of their website is that in many cases, people who browse their original websites on a mobile device lead to a bad user experience. Due to the small screen of a mobile device traditional, websites can often prove difficult to navigate, look unprofessional and can often lead to a frustrating user experience.
With a fully developed  mobile website you are giving users a much better browsing experience making the prospect of conversion much more likely. Creating a mobile site is a great way to satisfy the limitations of a mobile device and deliver an engaging online experience.
3 Great Advantages To Developing Mobile Websites:
Relatively Low Development Cost
It may come as a surprise but developing a mobile version of your website is not as expensive as you may think. In many cases a mobile version of your website can prove to be a much cheaper option then developing a mobile app.  The cost of developing a mobile website can vary quite a lot depending on factors such as the amount of content and the level of sophistication regarding the functionality of the design.
For a small to medium size business it is feasible to develop a basic mobile website design ranging from a few hundred Euros to a few thousand Euros. By investing theses sums of money it is totally possible to capture a whole new audience of visitors and attract large volumes of traffic to your website.
Relatively Low PPC Cost
Developing a mobile PPC advertising campaign is an excellent option to attract visitors to your website. In Ireland at the moment Mobile PPC is very under-exploited form of online advertising. At present in some PPC markets there is not a whole lot of competition for keywords. For this reasons it is possible to pay very low click costs for keywords that can be very competitive in normal desktop and laptop based PPC advertising campaigns.  This presents a huge opportunity for business to set up mobile PPC campaigns, garner some serious volumes of traffic and convert quality leads.
Achieve Easier SEO Rankings:
It is also possible to achieve more easily sustained high rankings for your preferred keywords and search terms. Due to the fact that the mobile developed website landscape is in its infancy, achieving high organic rankings is entirely possible with even less time and resources devoted to link building activities you would otherwise be engaged in with your traditional SEO methods and link building activities.
Conclusion:
Investing in a mobile friendly website is an excellent opportunity right now for businesses in Ireland. Consumers purchasing behaviours is evolving rapidly with purchases and many other forms of action being made from smart phones on course for a huge increase. If your business is truly committed to establishing a strong online presence then developing a mobile optimised website should be a serious consideration.