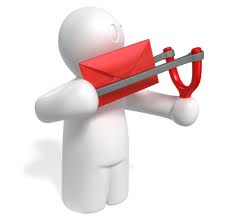 Email marketing is directly marketing a message to a group of people through email. In its broadest sense, every email sent to current clients or potential clients could be considered email marketing. Email marketing is an extremely cost-effective way to communicate with prospects and existing customers. Similar to direct mail, email is a faster, cheaper and easier way to communicate with your prospects and customers.
Email marketing is used by many companies to send advertisements or to inform about what business they offer. It is a way of building loyalty, trust but more importantly brand awareness. Many companies send email messages to enhance the relationship with current, previous or potential clients and also to encourage customer loyalty and repeat business.
There are different types of email marketing such as newsletters, sales alerts, press releases and service reminders:
Newsletters are typically sent once a month, it usually contains a brief update on company news, a helpful how-to type article, and an offer.

Sales alerts are messages you send out when you're running a 25% off sale or you have a great time-sensitive offer that requires immediate action.

Press releases are used to send out the latest company news, such as new product announcements, company stock information, important events, etc.

Service reminders are all about generating repeat business by contacting your customers at exactly the right time. Sending customers a service reminder (preferably with a special discount offer) before its due. This keeps you in the customer's awareness just when he's ready to make a purchase.
Benefits of Email Marketing
Cost effective
The obvious and biggest benefit of email marketing is it's cost-effectiveness compared to direct mail or printed newsletters. It also opens you up to a huge network at a click of a button.
Increase your sales
According to a recent report the average person has to see or hear about your product seven times before they will buy from you? With email marketing you can send a series of messages to your subscribers, informing them about your products and services. An informed educated prospect trusts you, and when you have a customers trust selling becomes an easy, more natural process – resulting in increased sales. Even if your subscribers aren't in the market for your product or service now, eventually when they do need it, you'll be first on their mind. Email is a great way to send promotional messages. When you have a special offer or sale, email can put the message in front of them in a matter of minutes.
Generate repeat business
When it comes to customer retention email marketing is the ultimate tool. Keeping in touch with customers regularly after they buy is the best way to generate repeat business. For example, you could offer them special discounts that compliment what they've already purchased.
Increase your average order value
Email provides a great way to up-sell customers and according to a recent study, can easily add up to 30% to your average order value when done correctly. By informing them of a product or service that relates to what they are ordering, you save time for them and generate more sales for yourself in the process.
Tracking your ROI
With email marketing it is possible to track your return on investment. To do this you must tag your email campaigns with campaign tags so you can track how well each email performs. Tagging your campaigns is the only way of tracking if visits or sales from your website came through an email campaign. Google analytics is a great tool for tracking emails.
Increase your offline sales
According to a recent survey by Marketing Sherpa, 59% of internet users research a product online and then go in store to purchase it on a regular basis. So if you run an offline business, email marketing is a great way to increase traffic to your store, just include the address so potential customers can find you.
Gain honest, valuable feedback
With email marketing it is easy to get honest feedback about your products or services by simply asking them, as email is non face to face communication, your email subscribers will be more open and honest with you.
Disadvantages of Email Marketing
Undelivered Email
At times it can be difficult to get email through a spam filter as many companies use email marketing to communicate with existing customers, but many other companies send unsolicited bulk email.
Email response decay
Email recipients are most responsive when they first subscribe to an email. Over time it is difficult to keep them engaged, they soon find them irritating and opt out.
When email marketing is used correctly and consistently it can outperform other marketing activities substantially. In 2010 a survey conveyed that email marketing has been reported as the second most effective online marketing tactic behind search engine marketing.