Social Media is a phrase that has been tossed around a lot these days. There is a lot of confusion around this term and what exactly is it? If Facebook is a social media site, and Delicious is a social media site and Wikipedia is one too, then what exactly is Social Media? This has caused confusion to many people, including myself when I started learning about Social Media, so below I have broken down the types of social media sites:
1. Social Networking Sites
The Social Networking Sites are such websites as: Facebook, Myspace, Linkedin, etc. They function like an online community of Internet users. Members can share photos and videos with their friends, post comments and interact with people in various ways.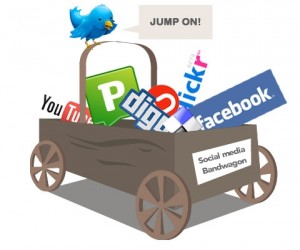 Since people are spending more and more of their time on these pages, this has opened unforeseen opportunities for businesses. These sites also allow companies to create their business pages, interact with new and existing customers, as well as advertise to your target audiences.
2. Social News Sites
These sites allow users to submit news stories, articles, blog posts, photos and videos to the community. These websites include: Digg, Reddit, NewsVine, Kirtsy, and BallHype. Once you submit your piece of content, the community can vote up or down for it. The more votes you get, the higher are you chances of appearing on the front page of the site. The advantages for you here are that you can get a lot of traffic to your website, especially if your piece appears on the front page.
3. Social Bookmarking
Social Bookmarking sites allow you to "bookmark" and share your favourite websites with others. These sites include: Delicious, Magnolia, and Diigo. Members of such sites are people that want to find great websites that they could also share with their friends as well as the community. Again this is similar to social news sites, when a member bookmarks a page or a site, the popularity of that site or page may increase, giving it the chance to appear on the front page. Again all of this increases traffic to your website.
4. Social Sharing
Social Media in general is about sharing things with your friends and other people. But some websites are particularly about sharing photos and/or videos, such as: YouTube, Flickr and many others. As you know these are very, very popular and there are huge amount of searches conducted on these websites daily. Adding content to these sites can dramatically increase the results of your search engine optimisation. In fact, these are the sites that you should not leave out of your Internet Marketing strategy.
5. Social Events
If you want to get a word out about a public event that you are planning, such sites like: Eventful, Meetup and Yahoo!'s Upcoming are the sites where you could do that. Events can be in a physical location or virtual. Users who plan events have options to promote them and contact people who have signed up for the event and start creating relationships.
6. Blogs
Blogs allow people to express themselves to the entire Internet community. And this can include just about anything: photos, videos, ideas, opinions, reviews, thoughts and so on. Blogs offer great opportunities; if you have good content, people will keep coming back for more and will share it with their friends and family. That's why bloging is great for businesses, because they can offer expert advise to people and post relevant content, thus increase their overall business visibility and their search engine rankings.
7. Microblogging
You might be thinking, what in the world is that. Microblogging is like a compressed blog consisting of short messages of around 140 characters. Twitter is the main microblogging platform used today. If people are interested in you, they may follow you, meaning, your short messages would be seen by your "followers" and the short messages are called "Tweets". The opportunities that Twitter provides for businesses and as well as for individual people are huge. If you can make yourself appear interesting, or make your business appear that way and if you can post things of interest to many users, you can get a large audience to follow you.
8. Wikis
Wikipedia provides a quick information exchange; people are able to share their own knowledge and expertise regarding nearly any subject. While it's not always reliable, Wikipedia is inevitably powerful, since many people use it to get various information. You could use Wikipedia to set up your company as an expert and drive traffic and interest to your products or services.
9. Forums and Message Boards
Some people call Forums and Message Boards the "grandparents" of social media, since they been around from the start of the Internet. They still remain popular, and there are thousands of various Forums online with thousands of users, who actively participate in various discussions. People might be talking about your business, your business products and/or services in these forums. You could use Google Alerts to track if people are talking about you online, which could help you manage any bad reviews or offer your services or products to a person, who has asked for advise and is looking for such services.
Having read this, it should make it easier when choosing, which social media channels you should use to market your products or services.