Google Real Time, is a real time tracking feature in the Google Analytics Interface. Although the tool is still in Beta and providing limited capabilities, the tool allows you to see what website visitors are doing, to identify the number of active visitors, the number of pageviews, the top referrals, geographic locations, map insertions and the top active pages on our website in real time. To access the tool simply go to the top left hand corner of the home page on Google Analytics and click on the box that states Real-Time (Beta). The tool allows us to monitor and identify statistics from an overview stand point or drilling down into specific sections including Location, Traffic Sources and Content.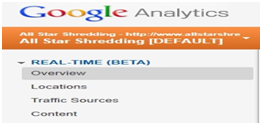 Real Time Overview:
Features
Instantly know how many visitors are on your website
Monitor and identify the referring sites & links
Identify which pages are most active & page performance over the past 30 minutes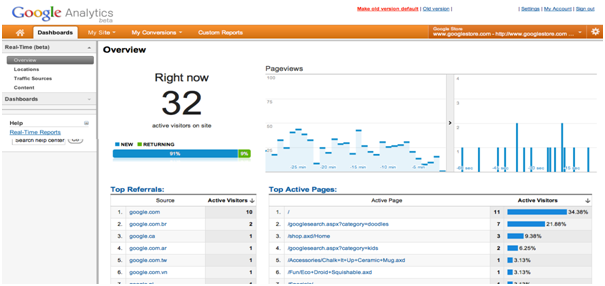 Traffic Sources:
Identify how visitors are arriving at your website, by either;
Source
Campaign
Medium
Keyword
Monitor Top Active Pages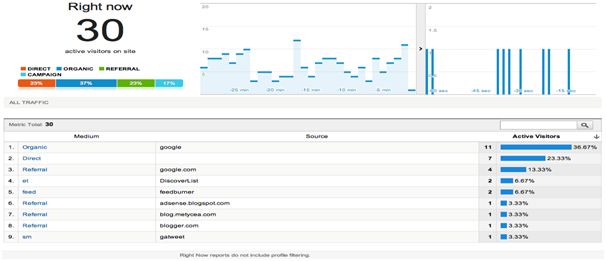 Geographical Locations:
Monitor geographical impact;
Monitor where traffic is coming from in terms of location
Identify not only country but by city-level

Limitations;
The real-Time Reporting tool is new and still Beta, so there are limitations which include;
Only provides reporting data for the past 30 minutes
Unable to save or export reports
No profile filtering
Unable to apply advanced segmentation to the data
Major Use & Benefits
The major benefit that this tool currently enables is the ability to track Campaigns and Monitor and Measure Social Media and SEO Marketing Campaigns. For instance, if you were to post an update on Facebook or a Tweet on Twitter directing to your blog or website, this tool can enable you to measure and track in real time the response and impact of you efforts. That is pretty powerful and can certainly encourage marketing planning and strategy. For instance, the tool shows the sources and mediums and referring sites; therefore you can identify which channels your activity got higher performance and therefore you may wish to focus on that channel more or work on those that are receiving little feedback.  Another example could even be tracking offline activity. If you had a 1 hour slot on radio, you can track the impact on Real Time etc.
Real-Time allows users to monitor data as it happens. Although there are limitations, although it is a new tool in Beta and many advantages still have to be discovered, it is clear that the Real-Time Reporting tool in Google Analytics certainly provides many benefits.